I am Martin Heydon, Fine Gael TD for Kildare South since 2011 and I am seeking your No.1 Vote in this General Election.
I am the chairman of the Fine Gael Parliamentary Party leaving my ideally placed to fight at the highest level of Government for investment and support for Kildare South and those areas in Laois and Offaly which are now part of the Kildare South Constituency for the 2020 General Election.
I am honest, hard working and approachable and I have delivered.
Delivering for Kildare South
I have fought for and delivered investment for Kildare South & Laois – funding for Kildare's Blueway and St Conleths Park, better roads, more local bus routes, new family resource centres, primary care centres and sports capital grants.
I want to continue my work to deliver more school places and gardai, increased rail capacity, more houses, planned extensions at Naas Hospital and more climate action.
As a husband and father of 3 young boys, I want the best education and childcare facilities and a bright future for all our children and their parents.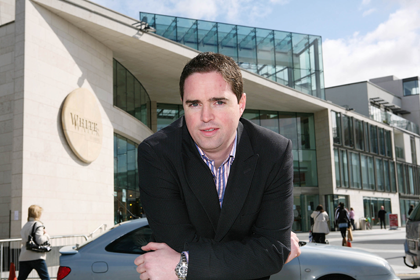 I am passionate about the area I represent and its people. I fundamentally believe in the importance of public service. With 9 years' experience as a Fine Gael TD and chairman of our Parliamentary Party I have already delivered, and with your support I know that I can achieve even more.
Among many other projects, I have specifically worked:
to ensure the Kildare section of the Barrow Blueway goes ahead and helped to secure €5m rural funding for its development which will start this year;
to support Kildare GAA's plans for the redevelopment of St Conleths Park in Newbridge, ensuring Governemnt funding was as high as it could be at €4.85m;
to secure funding for the Athy ring road which is on track to start main construction in the coming months;
to push for a new secondary school at the Curragh post Primary to help take pressure of school places for Newbridge and Kildare;
With School Principals and Boards of Management to push for new schools for St Pauls Monasterevin and Colaiste Iosagain Portarlington and extensions a Patrician Boys Secondary, Newbridge, Cross & Passion Kilcullen adn Athy Community College which are all progressing;
to highlight the need for extensions at Naas Hospital which are now included in the HSE service plan – a new endoscopy unit and day wards and a new mental health unit to replace Lakeview;
to support sports clubs and organisations across the constituency who sought government funding through Sports Capital Grants to ensure they recevied as high allocations as possible;
to support local community projects in Narraghmore, Moone, Rathangan, Kilcullen and many other who were allocaged funding to improve their areas under the Town and Village Renewal Scheme.
I want to continue my work for Kildare to ensure it gets a high share of Government investment to provide the services and facilities its citizens need.
Why you should vote for me
I want to continue my fight for improved rural broadband, improved health services and homes for all.
I am passionate about Kildare and its people. I want the best education, childcare facilities and a bright future for my sons and all children in Kildare. I have already delivered as a TD for Kildare South and with your support, I know I can achieve even more.